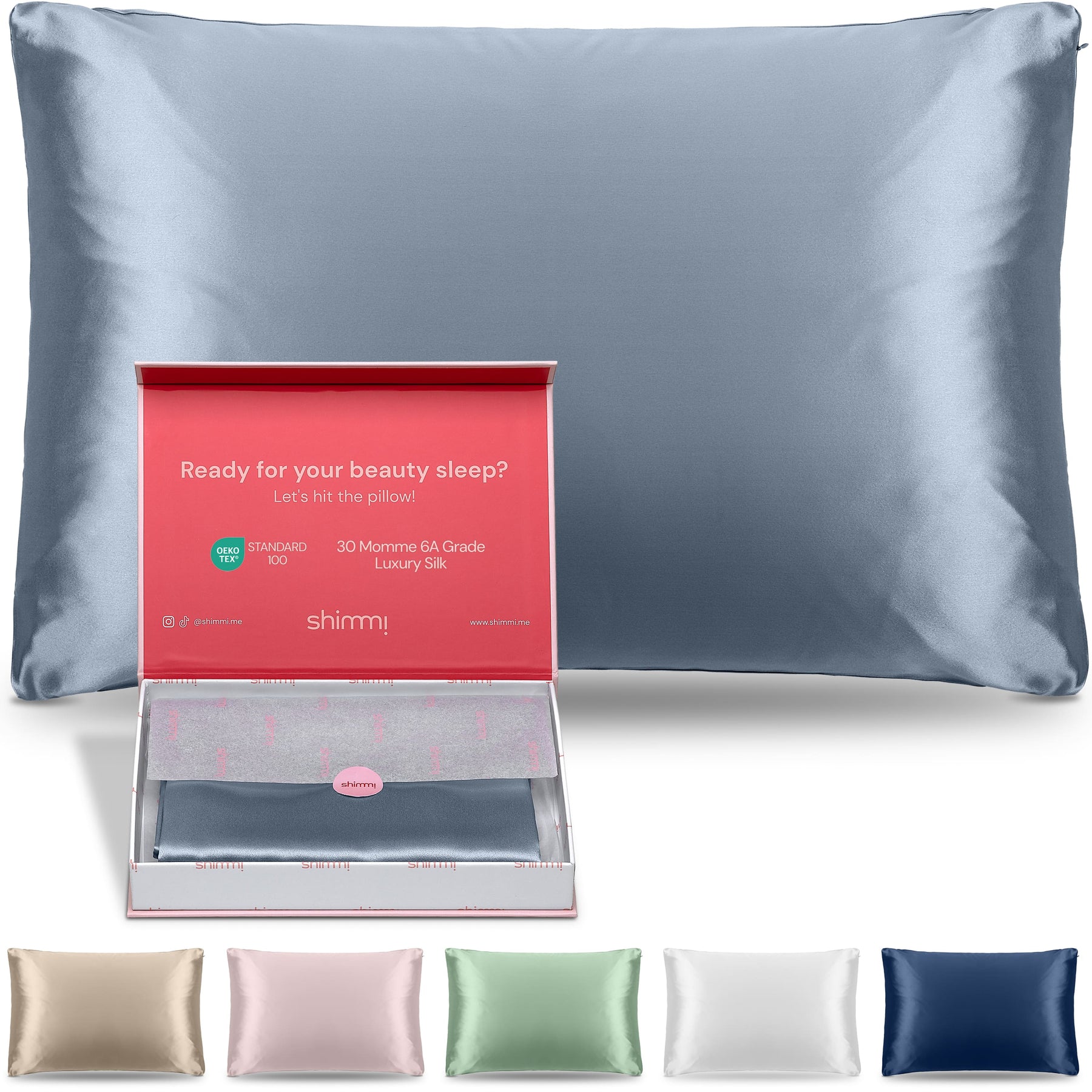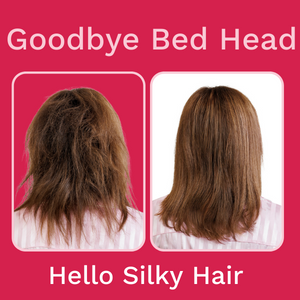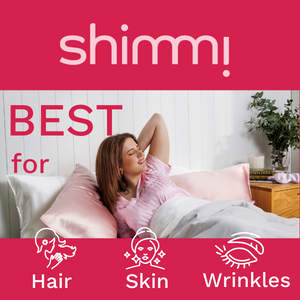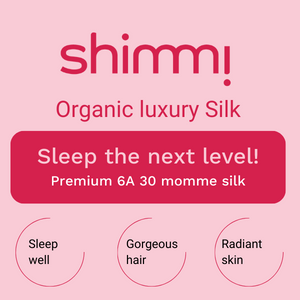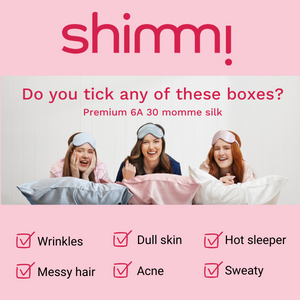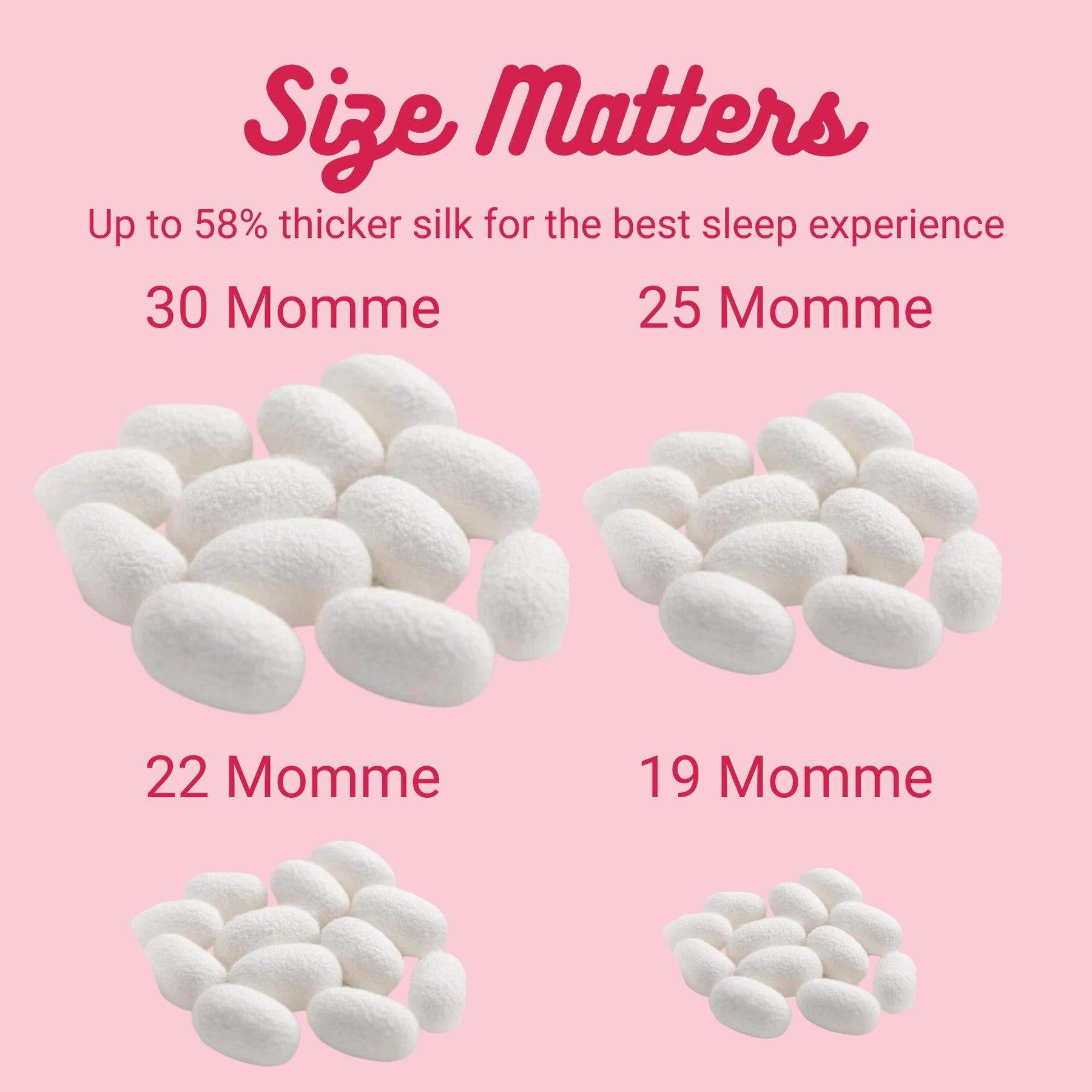 Shimmi 30 Momme Silk Pillowcase
Size:
Standard - 20" x 26"
Material: Pure 6A Grade 30 Momme Luxury Silk
In stock
The most luxurious pillow case. I was amazed at the quality of this real silk pillowcase. It's HEAVY silk, unlike others. It truly feels like luxury. I think I'm in love! It protects my hair well at night and prevents breakage.
This pillowcase is like sleeping on air! Airy silk. It's very soft and silky. I love the zipper to firmly hold in the pillow in. The color is gorgeous and it adds an element of depth to my bed, with the slight shimmer effect
This silk pillow case is totally luxurious! It is thicker than my other silk pillow case. I washed it today, it washed well and air dried very quickly
About this item
Premium Quality - Our Luxury 6A Grade 30 Momme Silk Pillow Case is 58% thicker than competitors, providing a luxurious and durable pillowcase product. Beautiful gift box presentation making the perfect gift for any occasion. 
Skin Benefits of Silk Pillow Cases - Wake up feeling refreshed with skin that glows. Our silk pillow case is naturally made for skin moisture retention and has anti acne properties. Oeko-Tex Standard 100 certified pillowcase tested against harmful substances.
Experience the Ultimate Luxury with our 100% mulberry Shimmi 6A Grade 30 Momme Silk Pillow Case. This Standard size pillowcase is up to 58% thicker than competitors, offering unparalleled comfort and quality. Our silk pillow case is naturally designed for skin moisture retention and anti-acne properties, ensuring you wake up with skin that glows.
Easy Care - The Shimmi silk pillow case is not only luxurious and beneficial for your skin, but also easy to care for. Enjoy the luxury of silk cooling pillowcase without the hassle. Available in king, queen and standard size.
Cooling Properties - Our real mulberry silk pillow case is perfect for those hot summer nights. The natural properties of silk allow it to stay cool, providing a comfortable night's sleep.
Non plastic packaging,Fully Biodegradable,Returns donated to charity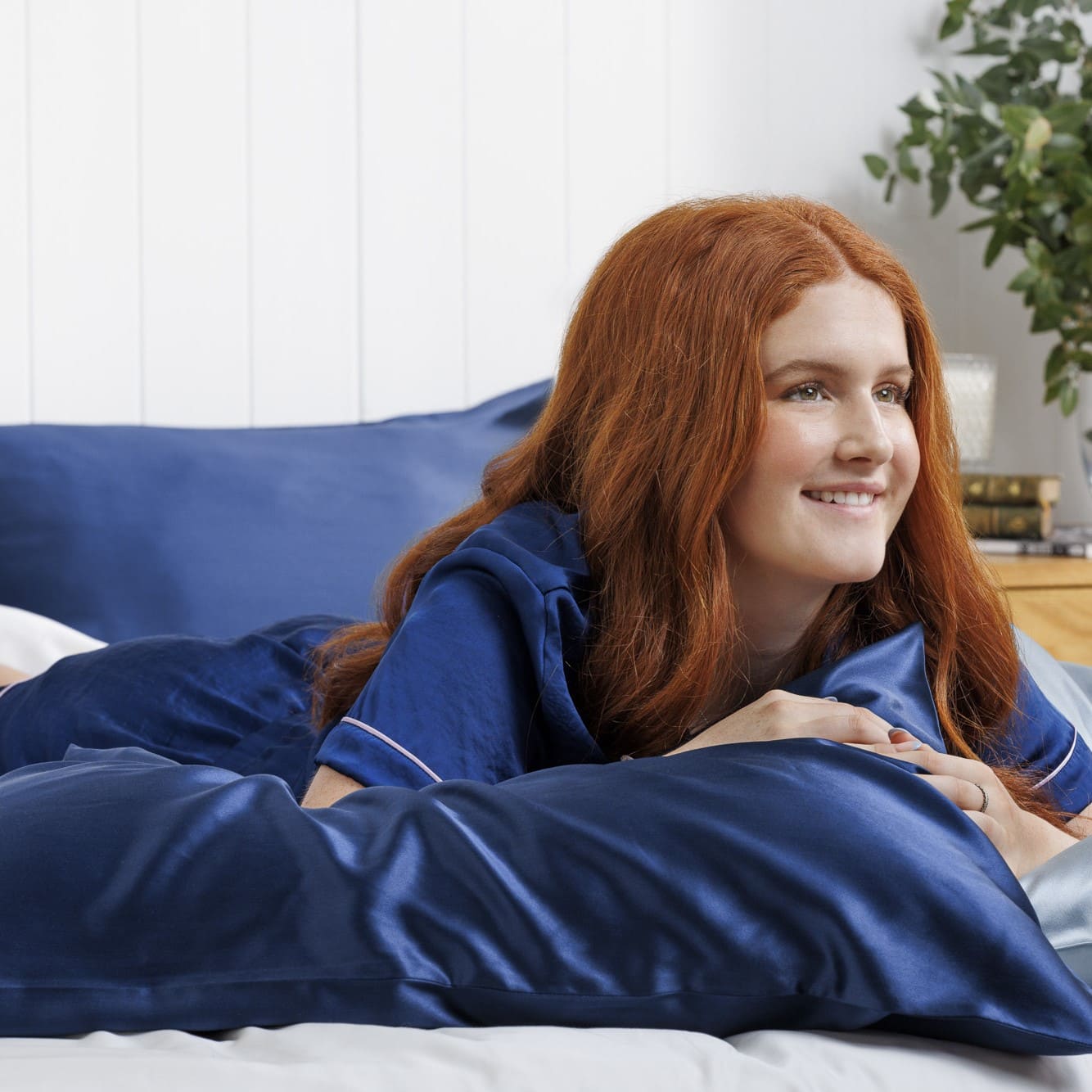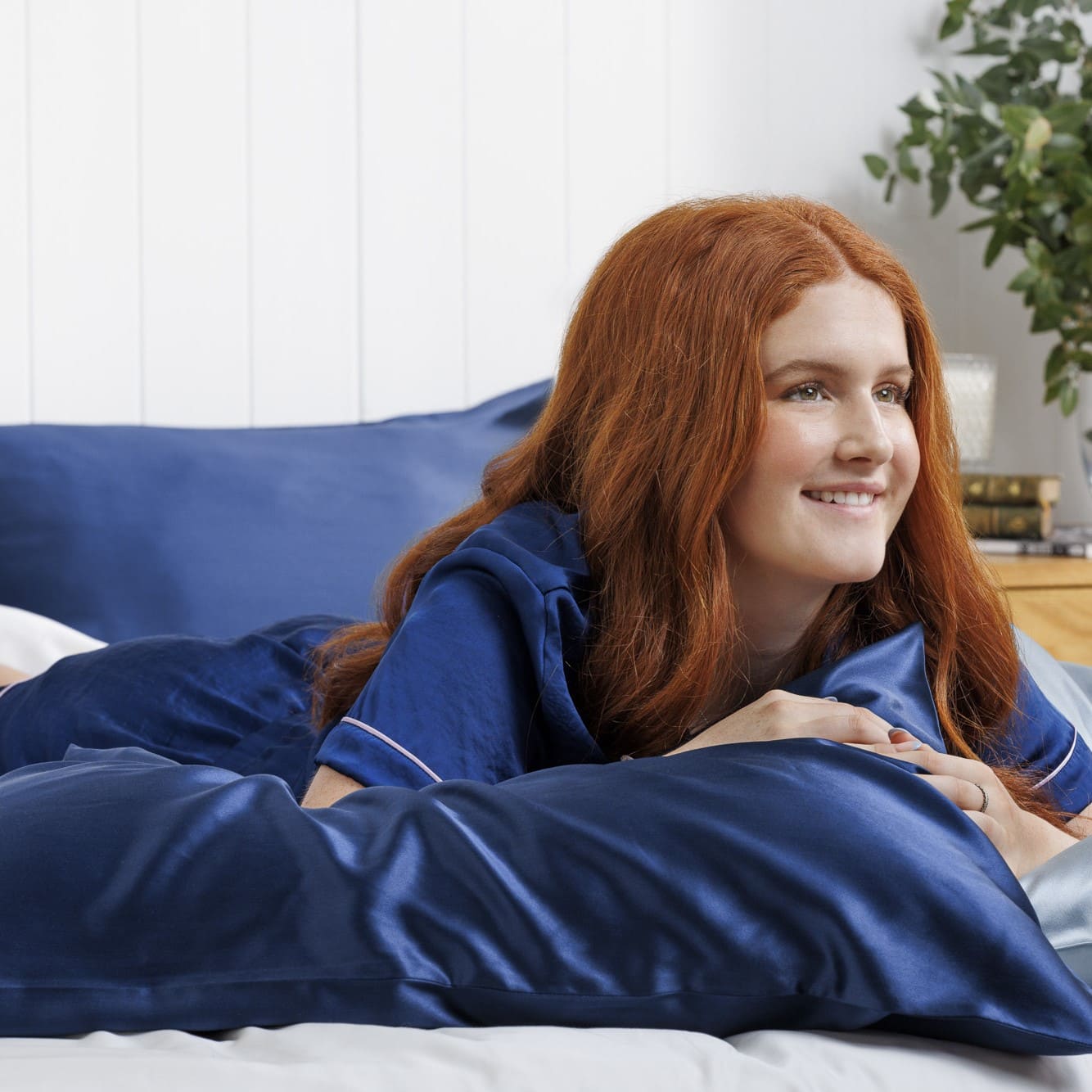 My Skin & Hair Have Never Been Better
Silk offers a more delicate touch on the hair compared to other materials such as cotton or linen. Thanks to its sleek surface, the fabric effortlessly slides over your hair strands, leading to less friction than rougher fabrics that may potentially cause your hair to catch. Although silk doesn't completely eliminate the chance of waking up with bedhead, it can significantly reduce tangles, frizz, and possible damage due to its low friction qualities. Those with curly, natural, or easily tangled hair would find the most advantages in using silk while they sleep.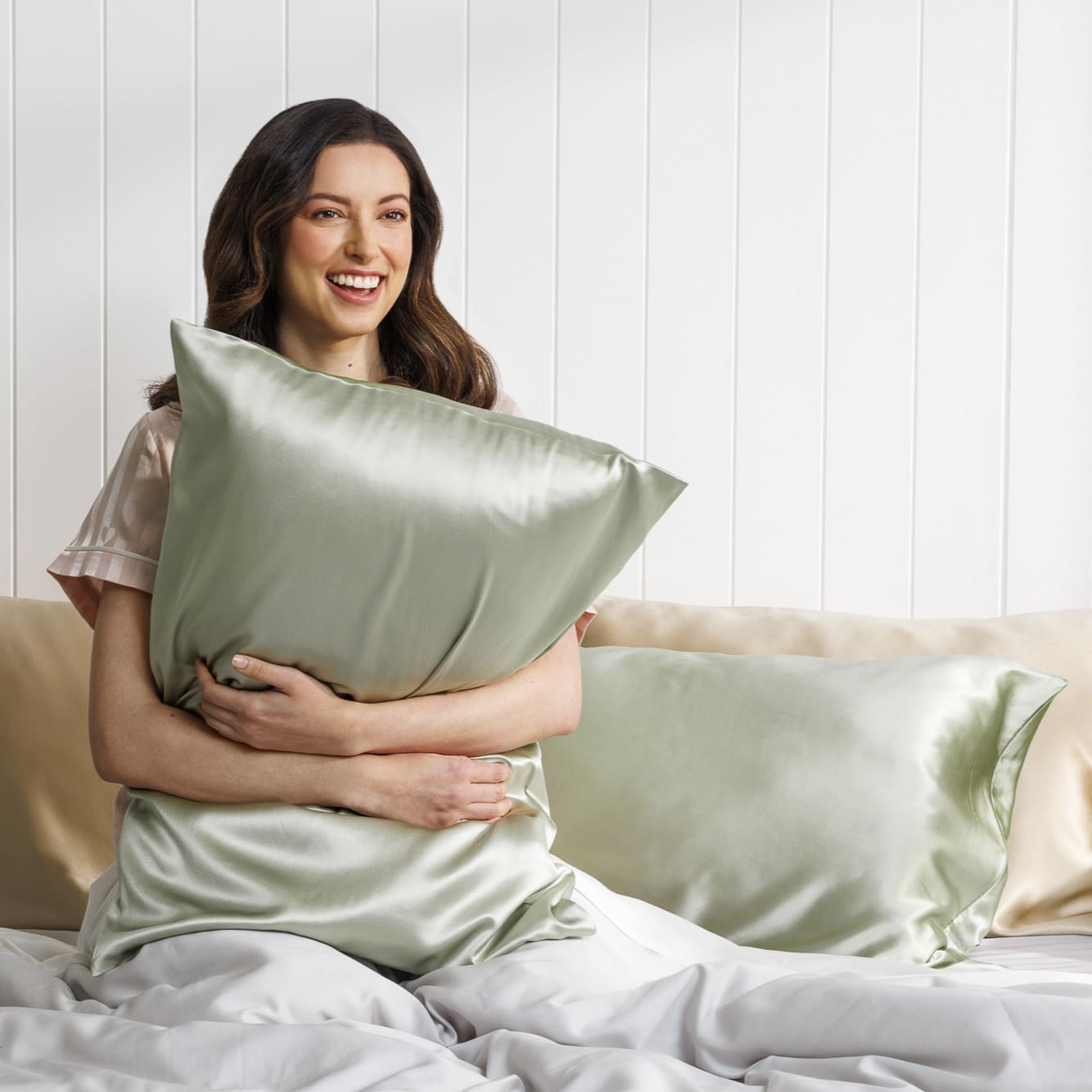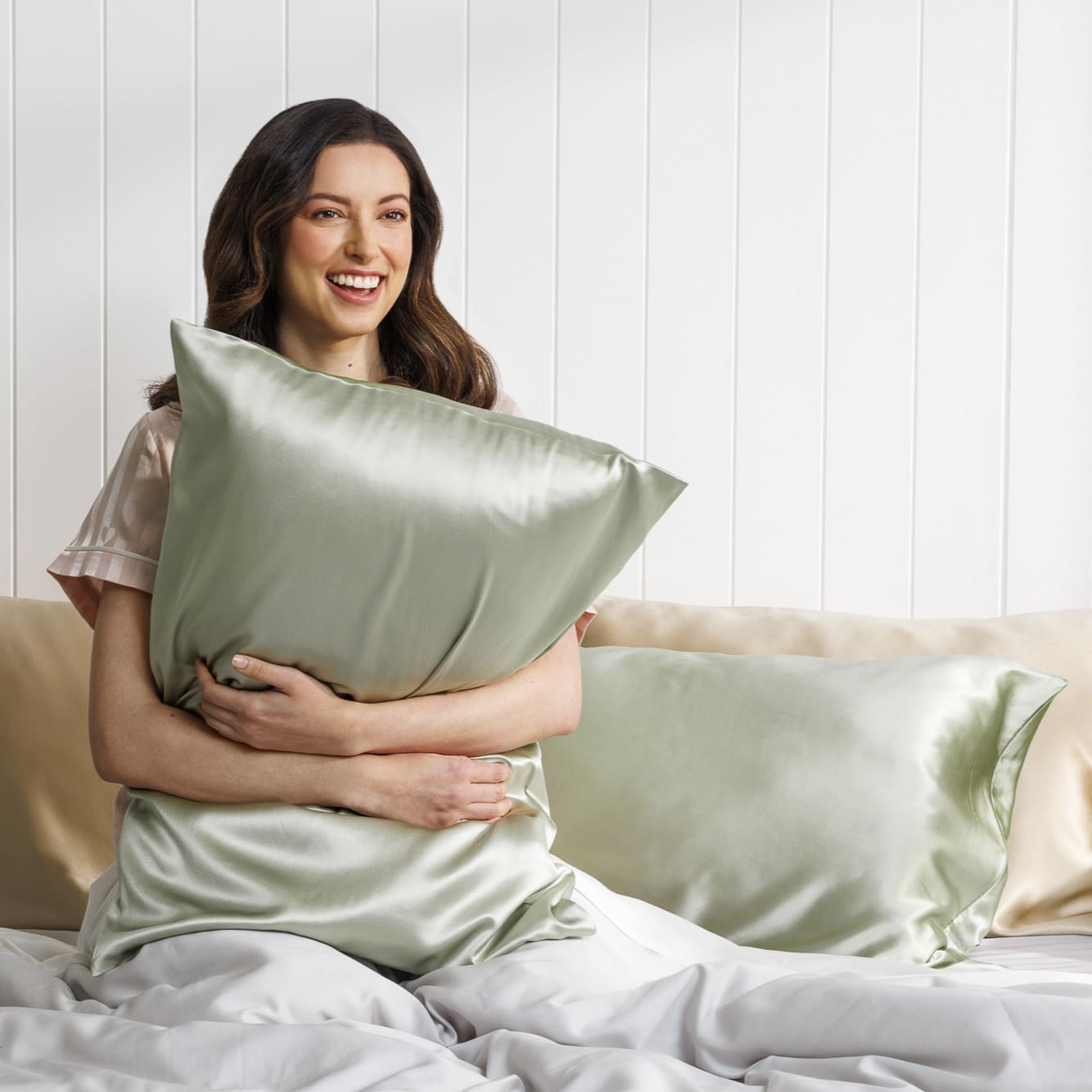 The Silk Secret Advantage
Unleashing the secret weapon in your beauty arsenal, the Shimmi silk pillowcase is not just a luxurious addition to your bedroom; it's a potent ally in your skincare and haircare regime. Crafted from 100% real silk, this elegant pillowcase works overtime while you rest, enhancing the effectiveness of your high-end cosmetic products. With lab demonstrated benefits, its lustrous surface reduces friction on your skin and hair, helping to prevent wrinkles and split ends. This is more than just a pillowcase; it's an investment in ageless beauty.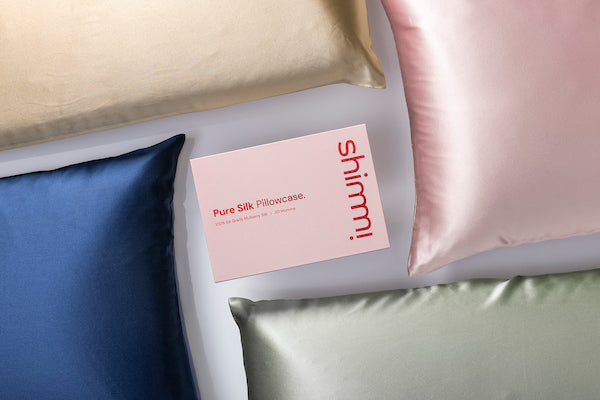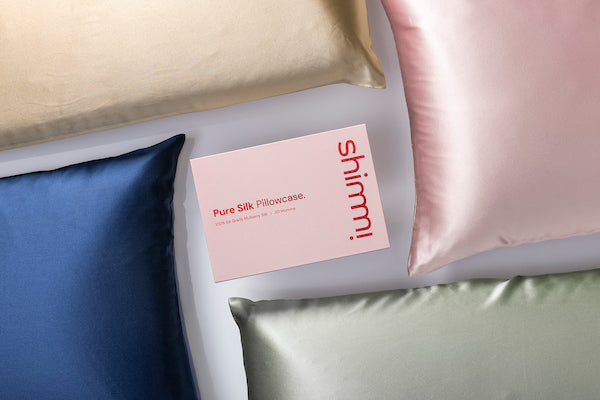 The Perfect Gift For Any Occasion
The Shimmi Silk Pillowcase isn't just for your everyday use; it's also the perfect gift idea for any special occasion. Christmas, Thanksgiving, Birthdays, Graduation or House Warming events - you name it! This luxurious pillowcase makes an exquisite gift that signifies care, sophistication, and an appreciation for the finer things in life.
Shipping
USA
$4.99 flat rate for orders $50 and under - NEW for 2023 - all orders over $50 now sent Expedited Shipping with Amazon Logistics!
2 - 7 business days, dependant upon region
Business days are Monday to Friday and exclude public holidays
FREE Expedited Shipping for all orders over $50 - $6.99 for orders $50 and under
2 - 4 business days, dependant upon region
Does not include Alaska, Hawaii, US Protectorates & APO/FPO
Yes! For all orders over $50
Standard shipping is free on all orders over $50, but the speed of delivery can be variable (see above). If you are in a hurry for you products, we thoroughly recommend paying a little extra for expedited shipping.
In a word "Yes"
Just like linen, cotton, bamboo and other natural fibers, there is going to be some wrinkling. Only synthetic fibers made from petrochemical processes are less likely to wrinkle.
To reduce wrinkling there are a couple of options.
1. Fold your sheets immediately after line drying or machine drying. Folded sheets will show less wrinkles, where as sheets bunched up in a washing basket will get very wrinkly.
2. Set your dryer to 'iron' setting, if it has one. This will leave a little bit of moisture in the sheets and then iron straight away. The moisture left in the sheets will make the ironing a breeze.
100% natural fibers are great for you and the environment, but they do require a little more care than synthetics.
This is totally up to you. Our sheets are made in very sanitary conditions, but some people like to wash before use. However, this in not necessary, the sheets are beautiful straight out of the packet.
Don't be fooled by thread count trickery! To read how you have been mislead all these years read this article on Huffpost.
Olive + Crate eucalyptus sheets are genuine 300 Tread Count.
Returns & Payments
The Perfect Sleep "At Home Sleep Test" is Available Now (conditions apply)
Order the Perfect Sleep bedding products today and try them at home for 30 days. 
If they aren't the most incredible bedding products you've ever slept on, we'll provide you with a full 100% refund (conditions apply). The 30 day test begins when you receive the products.
Just contact us, let us know you are not happy with the sheets and we will process your refund following the sheets return to our warehouse.
Perfect Sleep "At Home Sleep Test" is only available to residents of the USA. Expected shipping time is 4-9 days in the USA . 
"At Home Sleep Test" is limited to one order per customer, household and/or address. Subsequent returns will incur $7.95 per item restocking fee to cover shipping and warehouse charges.
Used returned bedding is donated to local charities
Absolutely!
Cancellations are possible, but there are some conditions and limitations.
Orders can be cancelled, free of charge, any time up to fulfilment from our warehouses. If the order has been dispatched from our warehouse, then it will not be possible to cancel and a free return or exchange will need to be initiated instead.
At Olive + Crate you can shop using many payment methods, these include:
All major credit cards (including Amex)
PayPal
Apple Pay
Google Pay