The KitchenPerfect Copper French Press
Elegant, simple, and solid.
I don't write many reviews so I'll try not to get too overly-reviewy and precious here…but…this is the best-looking French Press I've ever held in my hands. It's also the heaviest. I'm old-school (literally) so when I pick up something this modern and elegant, it's a pleasant surprise that it has some heft as well as looks. Clean lines. A beautiful rose gold patina. And a combination long-handled coffee scoop/bag clip that's has a kind of cool steampunk-y vibe.
In short, it's a beautifully-simple design that is simply beautiful.
I haven't been making coffee at home for a couple of years because my acid reflux just won't let me. Once I unboxed this, I drove over to my favorite coffee shop here in Asheville and picked up a bag of Counter Culture's "Gradient" blend, freshly-ground for French Press. My barista recommended it for smoothness and low acid.
Back home, I heated the water in my banged-up 40-year-old English Simplex copper tea kettle (okay, I'm getting a little precious now, but it was cool going from old copper kettle to new copper press), put a couple of scoops of Gradient and a teaspoon of cane sugar into the stainless-steel lined press, poured in just enough to cover the grounds to let the coffee expand, then poured in the rest and set the timer for five minutes.
Ding went the timer, down went the plunger (slowly), and into the cup went the coffee with some warm frothed milk on top.
It was smooth and delicious. The press is well-insulated, so my second cup was almost as hot as my first.
I'm sold. End of review. /// Now here's the emotional part. After so many months of stress, shelter-in-place, don't go out without your mask, don't go IN without your mask, distancing, hand-sanitizing, worrying about my children and grandchildren, and hearing of friends I won't see again, the pleasure of using this simple, sturdy copper pot every morning reminds me that the timeless, comforting ritual of making coffee can sometimes be more nourishing than the coffee itself.
Beyond expectations
This is a beautiful French Press. It works well and keeps the liquid hot for a good amount of time.
Fantastic!
I have never used a French press before, but I will definitely be using this more often. Not only is it absolutely beautiful, it makes amazing coffee!! My husband and I love it!!
The Absolute Best Press!
This french press is simply wonderful! It is beautiful to look at, easy to use, makes great tasting coffee, and is easy to clean to get ready for use the next day. It makes the day great - what else can I say?
The perfect cup, the ideal temperature, full to the brim with more flavor awaits you.
More Delicious, Full Flavored Coffee & Tea Served Hot For Over an Hour
Creating the perfect environment to reliably make the most delicious cup of tea or coffee every time was a challenge that took multiple years to overcome.
In addition to tasting amazing we wanted to ensure your brew would stay the perfect temperature for as long as you needed it to. If you're a slow drinker or saving a cup for when your lazy significant other gets up, this will give you well over an hour of delicious, perfect temperature coffee or tea.
The secret is in our unique design. We use a precision engineered, 33% thicker double wall, thermal construction 304 stainless steel with a double filtered, ultra-fine plunger and then wrap that in a layer of gorgeous rose gold copper so it looks beautiful on the tray.

Coffee or tea that has to be tasted to be believed. Take the "perfect cup" test at home and you'll see what we mean!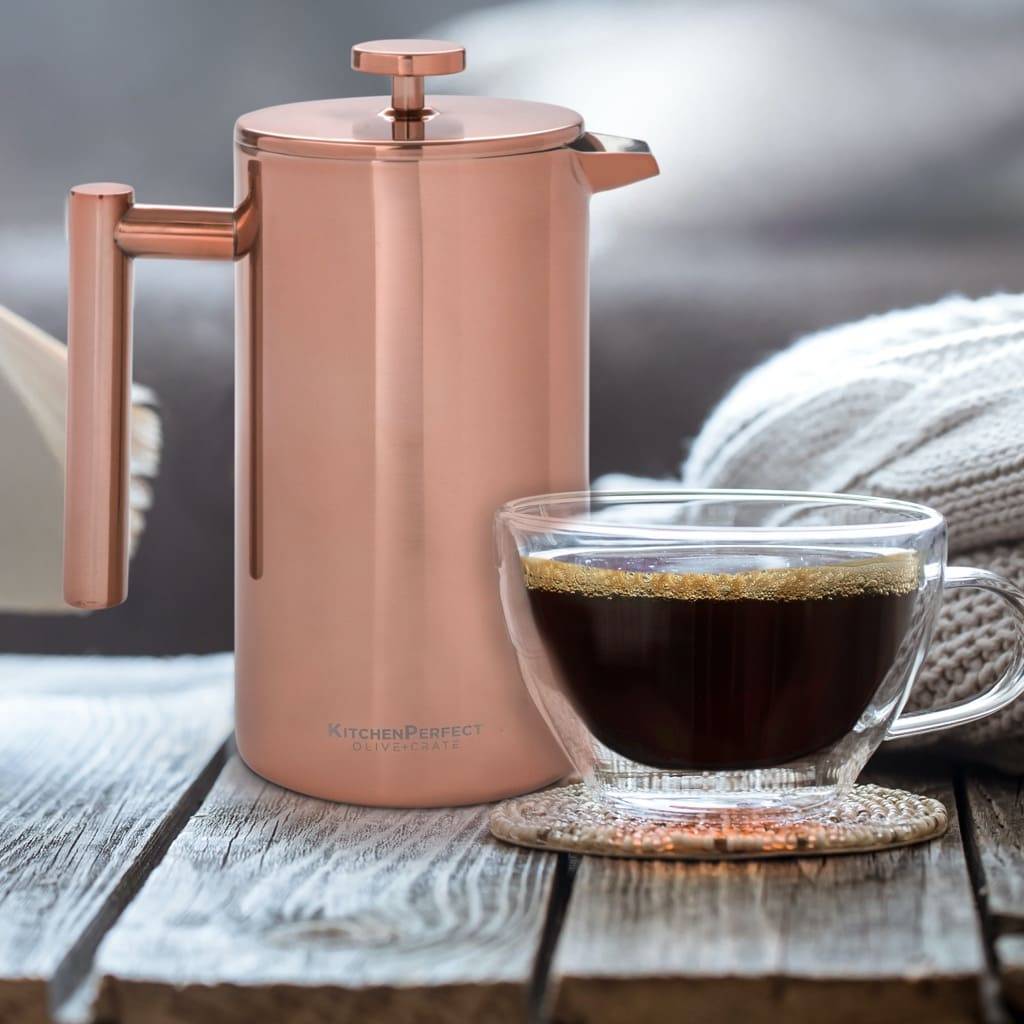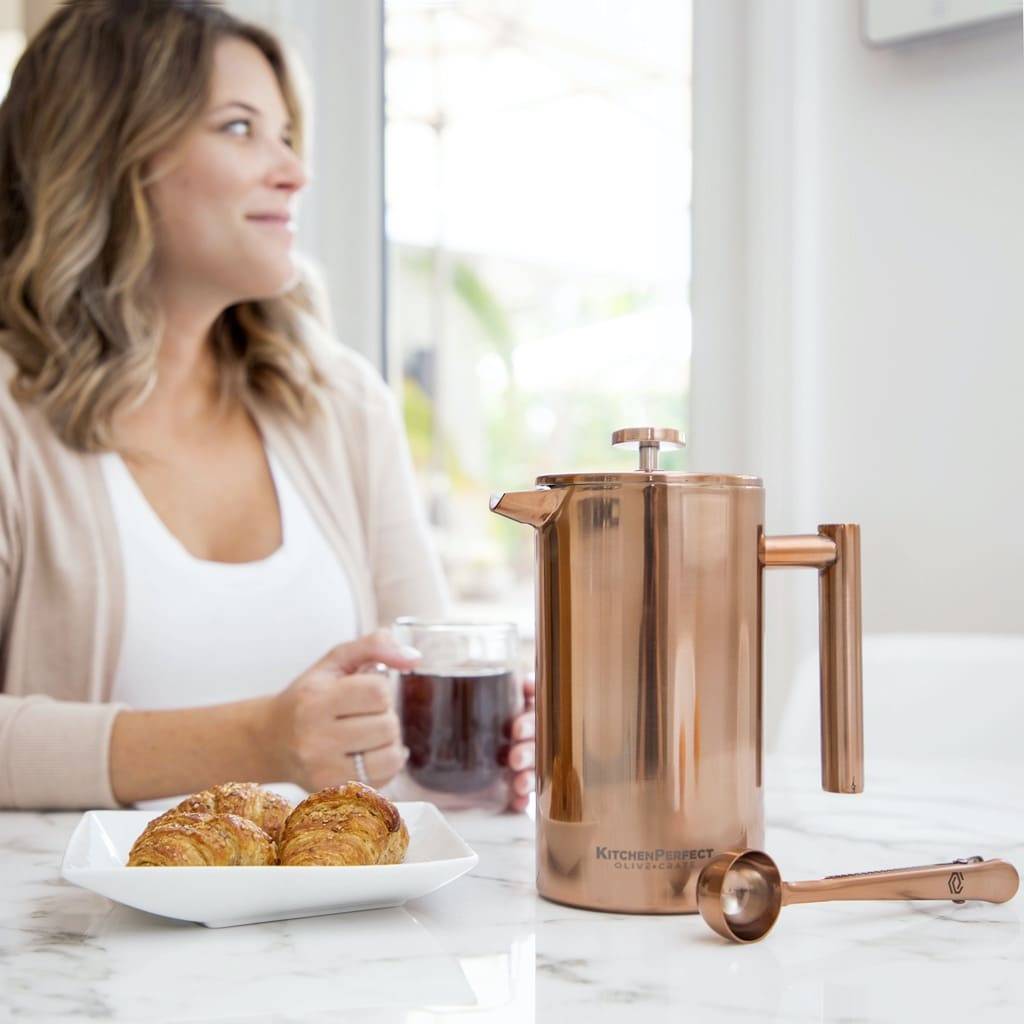 The drop dead gorgeous guest for your next breakfast meeting, dinner party or coffee o'clock emergency.

Hey Good Lookin'
The KitchenPerfect copper french press from Olive + Crate has been designed with ergonomic sleek angles, smooth, easy to grip handles and a stunning rose gold copper sheath so it's the ultimate minimalist bewitching guest every time you have a cup of tea or coffee.
You don't have to worry about streaks after washing because this french press is streak free!

Not only will you and your guests love the taste and temperature of your coffee and tea but this touch of class will have people asking where they can get one too.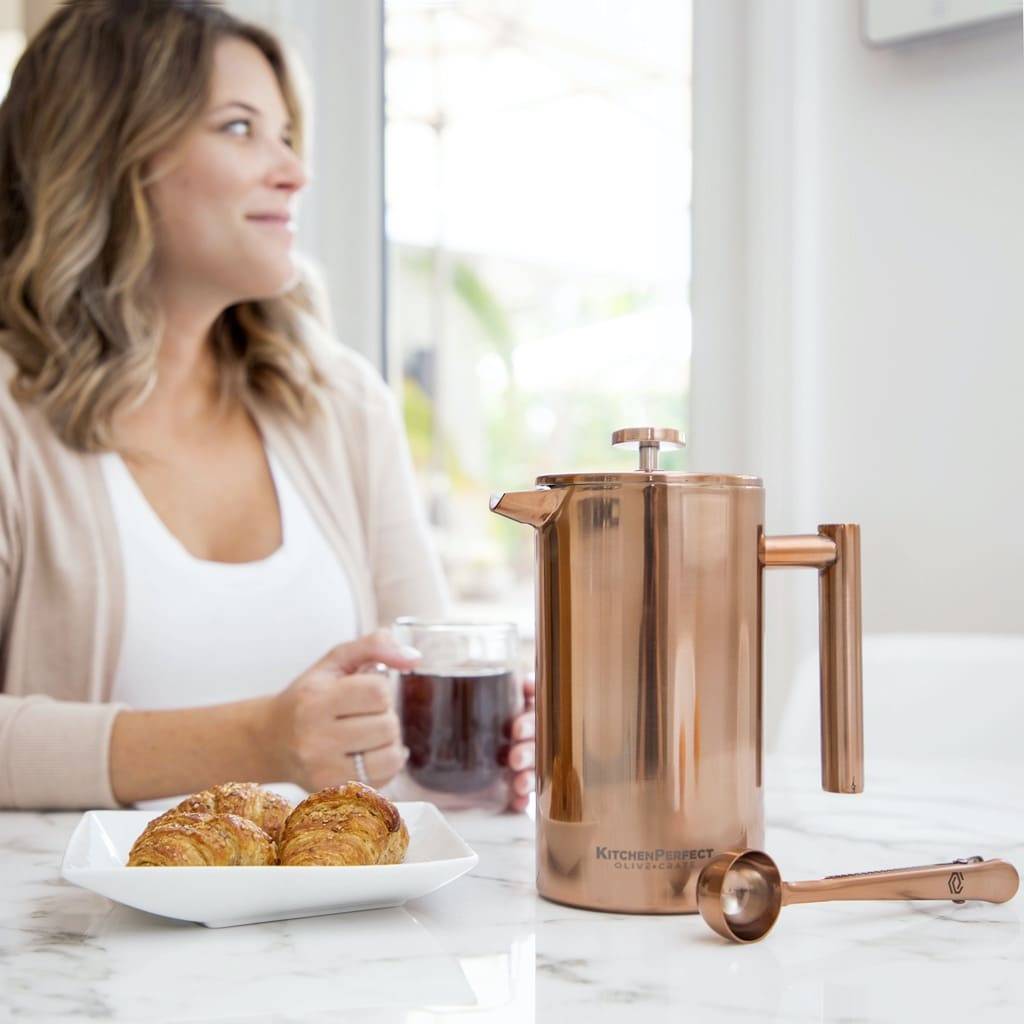 Our August 2020 limited edition batch uses the same PVD coating process as your iPhone to make this the most ultra durable and travel friendly french press you've ever seen.

Take Me Anywhere
Tough, independent and go anywhere, the KitchenPerfect copper french press will last you years. In fact our included 5 year warranty proves it.
304 grade, thermally constructed and double walled stainless steel is TOUGH while being incredibly insulating.
To make it even BETTER we used the revolutionary PVD or Physical Vapor Disposition process for the outer coating. This is the same ecologically friendly and sustainable process Apple uses with the iPhone and gives the french press an intoxicating color while making it even more durable.
Of course you can use it at home but it's so tough you can take that little touch of class, convenience and the perfect cup wherever you go. Ideal to take to a friend's place, on camping trips, RVs , backpacking and any other outdoor adventures.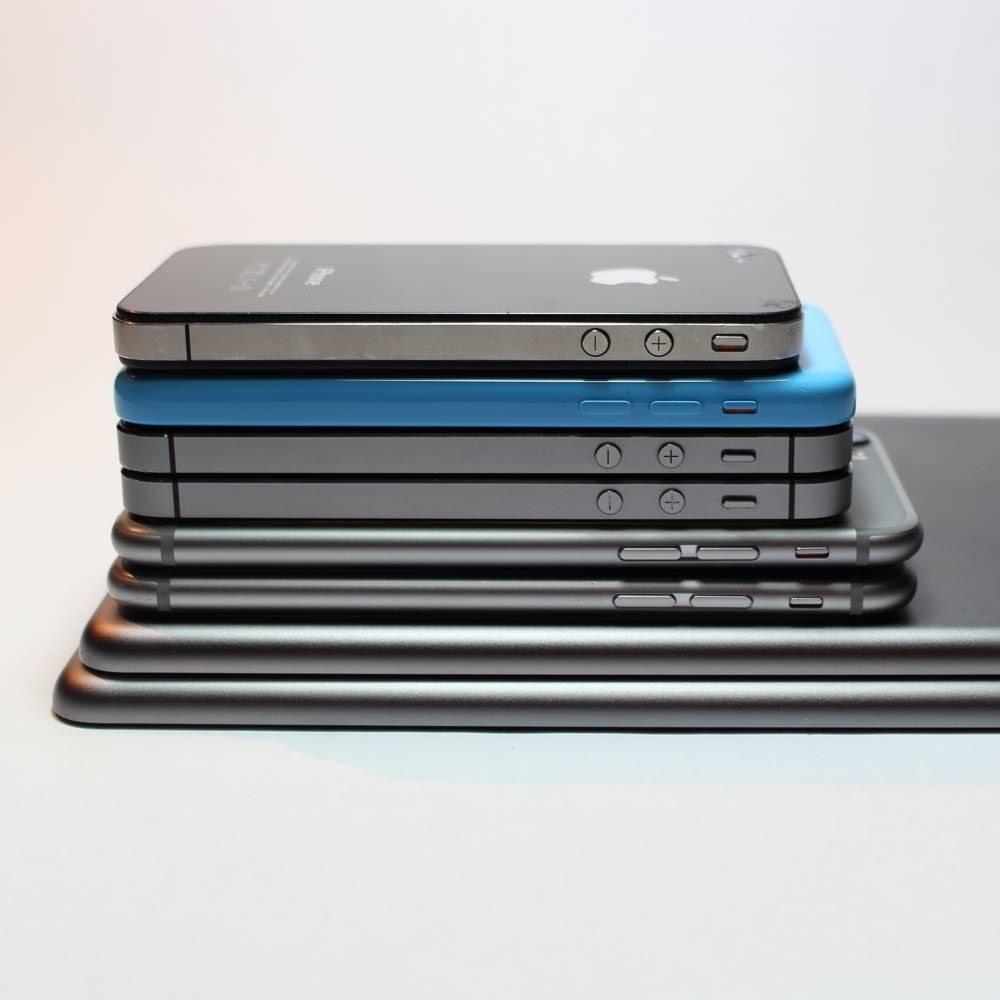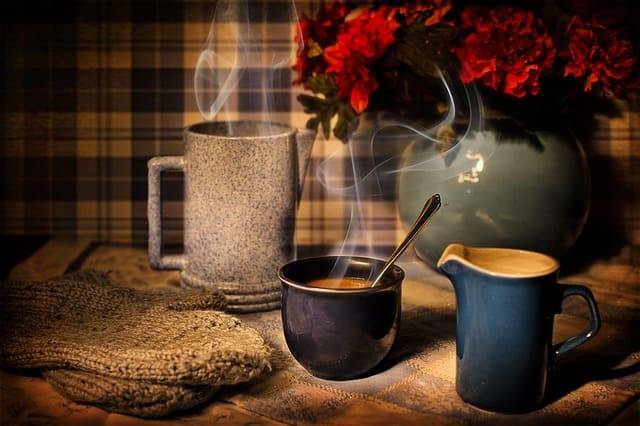 How good can that cup of coffee or tea taste?
Do you know what you're missing?
While we all have our favorite coffee or tea, you may be surprised to hear that, even using the same ingredients, the equipment and method you use to brew your cup can dramatically change the taste.
While keeping your cup at the perfect temperature for well over an hour, the entire KitchenPerfect French Copper Press from Olive + Crate has been specifically designed to make it easy to get the absolute maximum flavor out of your ingredients.

Imagine for a moment that perfect first sip. The greatest you've ever tasted. Our goal is to beat that and then for you to be able to easily repeat it every day. Take the 'perfect cup' test and see what you've been missing out on.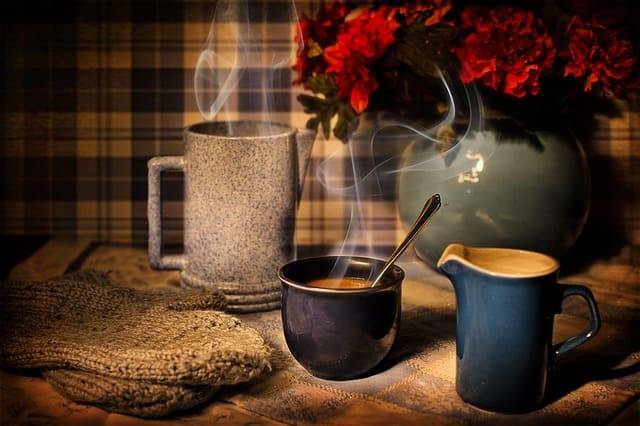 If you're not having the perfect cup every morning it's probably not your fault.
Hot brew, cold brew, loose leaf, freshly ground...the options are endless
It's not your fault, we blame marketing and the media.
There are so many big, soulless brands (who shall remain nameless) out there attempting to have you use their unsustainable and environmentally unfriendly systems every morning to make a subpar cup of coffee or tea that if you have yet to discover the joy and taste that comes from using the KitchenPerfect Copper French Press, it's totally understandable.
We're a small, family owned company without a huge advertising budget who set out to make something amazing to share with other people who absolutely LOVE that first (and second and third) cup each day. Whether you like freshly ground, loose leaf, cold brew or piping hot, we think we succeeded and our customers agree! We hope you'll love it too.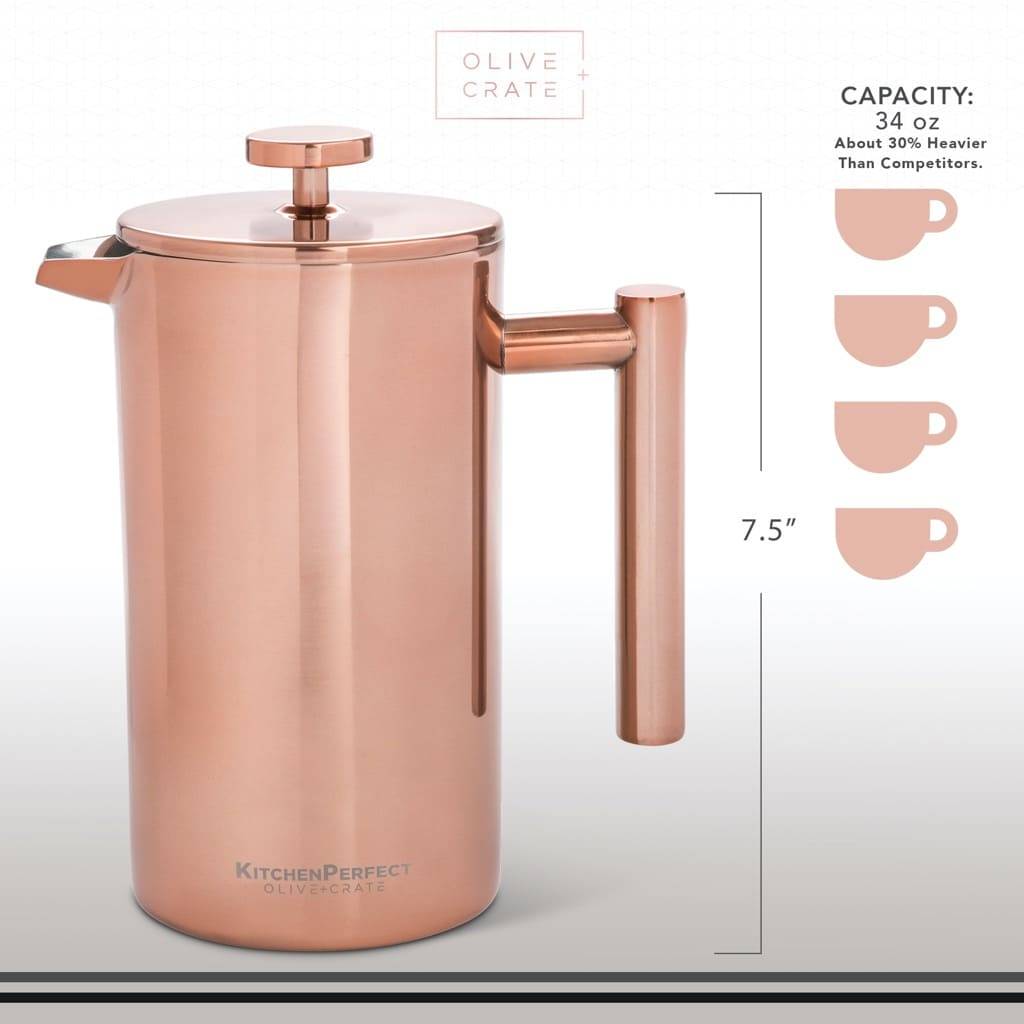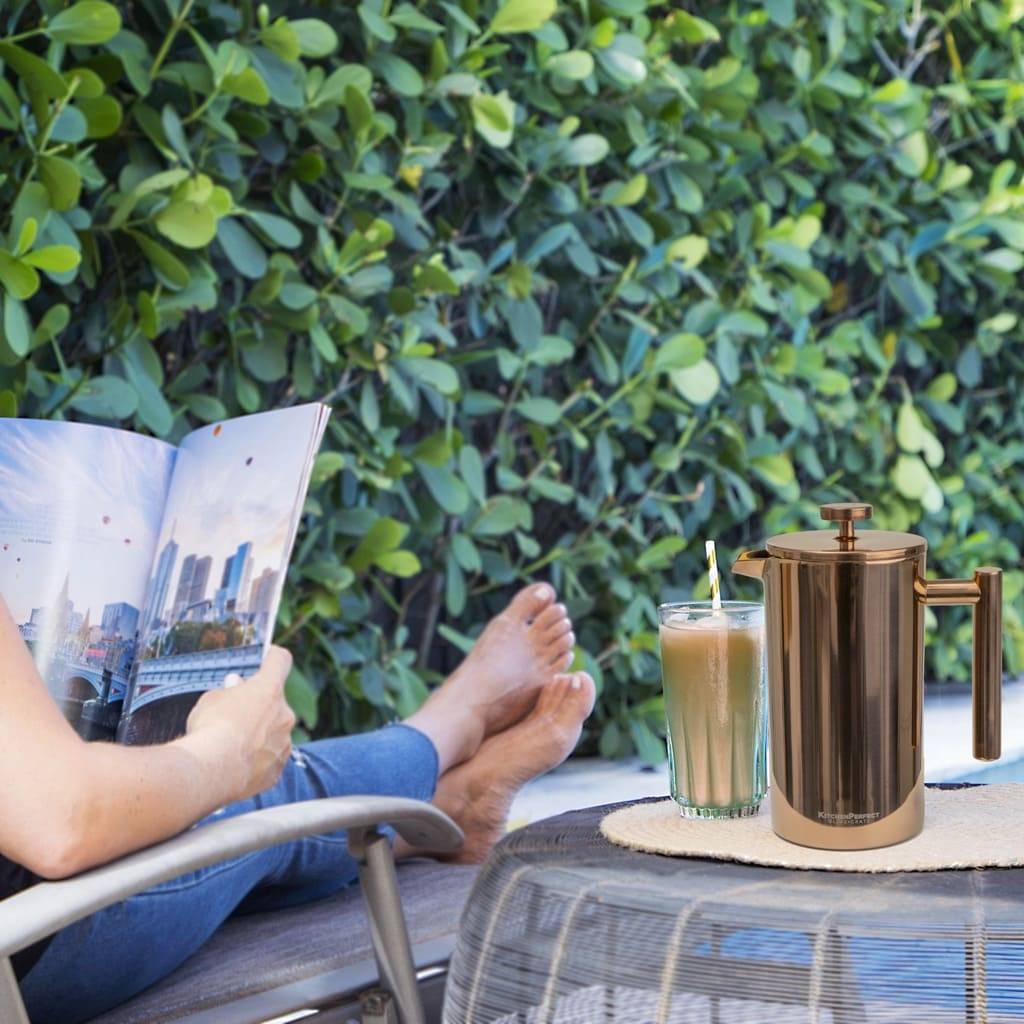 Start your test now before we sell out of the July 2020 Limited Edition batch of the Kitchen Perfect french copper press.
Limited number of test presses available from our new PVD Limited Edition Press
Since we started our KitchenPerfect "Perfect Cup at Home Test" word has spread as people talk (and we keep getting reports of friends asking where customers got their press!) and we've had trouble keeping up with demand.
Click the button below to see if there is a KitchenPerfect Copper French Press available for you to take the 60 day Perfect Cup at Home test, starting from the day you receive your new press (4-5 days from now!)
We've been where you are now.
This is how it all changed for us, just like it can for you
Hey it's David and Anne, the owners of Olive + Crate and we've been where you are right now.
We had our coffee and tea each morning and were relatively happy with it, although we tinkered with the method and technique we used every day.
One day everything changed and we knew we'd found something special. We knew we had to share what we'd discovered with as many people as we could and set out on the journey that created the gorgeous KitchenPerfect copper french press. We're excited to share it with you now!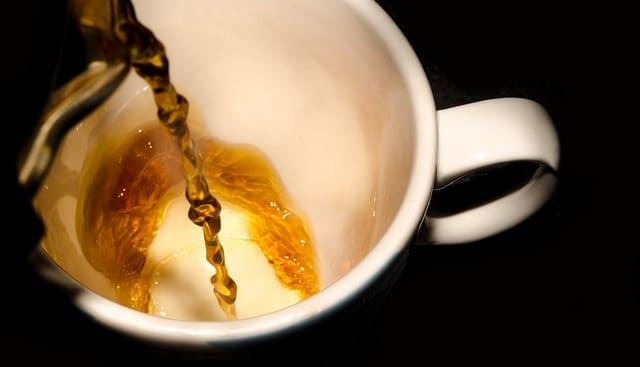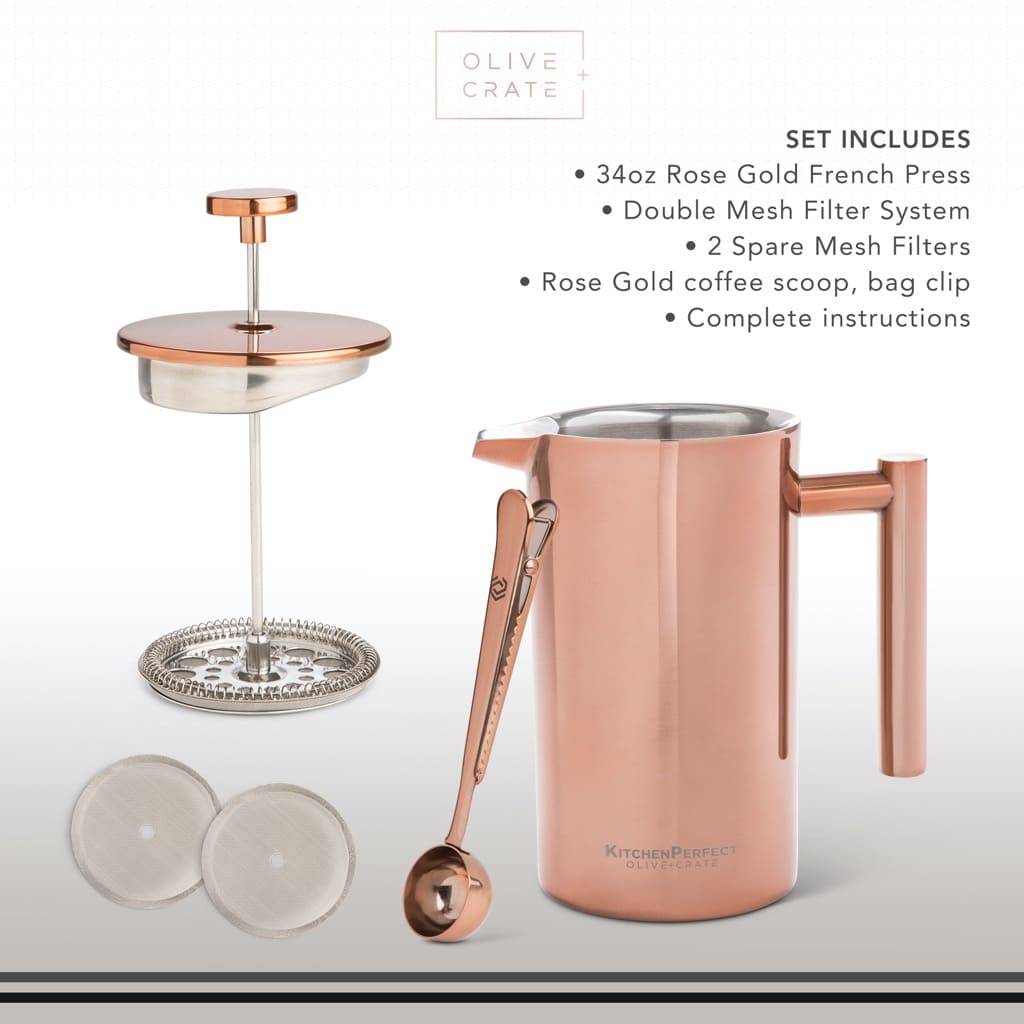 How does the perfect cup at home test work?
Here's how you're going to try that perfect cup
If you're thinking about taking that perfect cup at home test, let's run through how you can get the beautiful, double insulated, super tough KitchenPerfect Copper French Press with double mesh plunger to test at home.
Fill in the field below to order your press. We will ship it out to you ASAP. Delivery in the USA is 4-5 days and slightly longer than that outside the USA (5-7 days). From the day you receive your new press, the 60 day test begins! You get to enjoy your perfect cup each day from then on.
If you aren't overjoyed with your new press for any reason, then thats a test fail on our part and you can get in touch with us at any time within that 60 day test period for a full refund.
60 Day 100% Money Back Guarantee
More Customer Feedback on the Kitchen Perfect Copper French Press
What do our customers have to say?